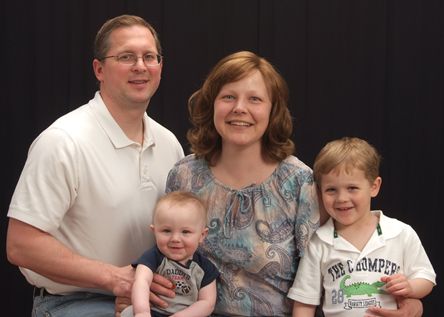 Dan, Jenn, Alexander and Ethan!
Jenn is fighting Lymphoma.
Update: Jenn sent along this comment on May 22, 2009:
I saw the oncologist today. Since my CT doesn't show any change compared to my CT 6 weeks ago, and my PET scan 6 weeks ago didn't show any abnormal metabolic activity, I am considered to be in remission.
No more chemo! Yay!
(Posted April 10, 2009) It was discovered shortly after Ethan was born. She is now in her fourth round of chemo. The prognosis is very good and she has a very positive attitude. She is an exceptionally strong person! She has a BLOG of her experience, please feel free to check it out and leave comments:
New Baby!
(November 24, 2008) Ethan Michael Suhajda finally joined us today at 5:37 pm. He weighs 8 lbs. 3 oz. and is wonderfully healthy.
Alexander Nicholas Suhajda was born on November 5, 2005, at 8:26PM. He weighed in at 8 lb. and 2 oz. He's a fine healthy boy and we are so pleased to welcome him to the family. Alex is a year old now, and just a beautiful little boy. He just got his first hair cut! Check out his photo galleries.